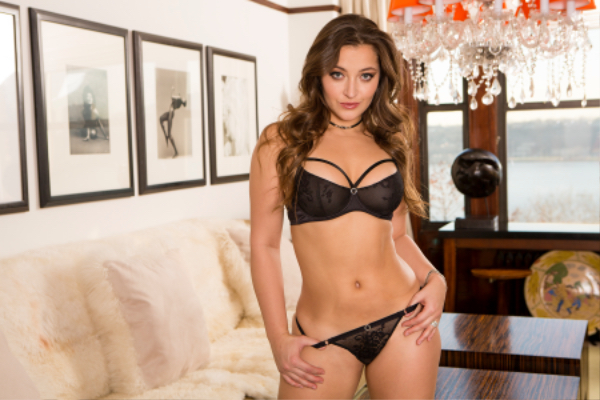 "New York, NY - Dani Daniels today announced the launch of her new lingerie line bearing her name. The line is already in production and will be available in the spring on DaniDaniels.com, in adult stores worldwide and in some edgy mainstream retail shops.
"I always wanted to create a wearable line of lingerie with a slight BDSM edge to it," said Dani Daniels. "This line is exactly that! Working with my designer we have created lingerie that is sexy, functional with some pieces that are really kinky and fun!"
The line will feature 23 pieces each available in 3 colors aptly titled, Bondage Black, Not-So-Blue Balls, and Bruise. Some of the pieces are traditional sexy lingerie designs, but there will be other pieces such as a bondage kimono whose belt can be detached and used as restraints and a strapless bra with a collar and strap that detaches in the back to become a leash. Production has already been started and distribution is set for Spring of 2017.
"We created lingerie that can be worn to show off your kinky side or can be used to just make you feel sexy. Some of the bra tops can be worn on their own as tops. Much of my lingerie can be worn every day but are still sensual and seductive," said Daniels.
"The Collar Bra is a perfect example of a top that can be worn daily that looks sexy but only your partner will know its kinky use. In addition to the Collar Bra and Bondage Kimono, there will be a few other surprise pieces that show off a BDSM/Kink edge. " concluded Daniels."
YOU GUYS IM SO EXCITED!!!!!! Yes I designed everything alongside Erik Nelson, with an everyday sex bdsm lifestyle in mind... but keeping it sexy and delicate. Comment with your questions and I will be happy to answer them! XoXo! -Dani
Ps. Yes, I am wearing one of my designs!